What to Look for When Buying Basketball Ankle Braces
Before you buy the best ankle brace for basketball, ask yourself the following questions:
What Will I Use Ankle Braces For?
You want to choose ankle braces that work best for your needs. There are many different types of ankle braces from compression sleeves to hard sided braces.
Generally, compression sleeves work best with basketball as they have to fit inside your shoe. However, compression sleeves vary as well with different sizes and healing properties.
It really depends on what your personal preference is when it comes to healing properties. The below selection will help you decide which will work best with your body.
If you have serious problems with your ankles, consult with your physician first.
How Do They Fit and Feel?
You need them to fit well and to remain comfortable during movements.
Too tight and your foot may get numb. Too loose and you risk injury.
Most manufacturers will offer a foot chart. For narrow feet, go a size down. For wider feet, choose a size up!
How to fit an ankle brace properly
How Durable Are They?
Buy a quality brand to ensure the elastic will not wear out quickly and lose its form easily.
Make sure you wear quality socks to reduce friction. Before you make the final decision, think it over because ankle braces can be very important for any basketball player, and there are quite a few styles to choose from. If possible, get a professional opinion to see if you really need one or not.
Ankle braces are ideal for basketball players who have a foot or ankle injury that is healing. Some players like to use the same brace to help prevent injuries, when in fact this is not necessarily the most effective piece of gear.
Some are designed as foot sleeves, which act more as a sock-like support system rather than an injury stabilizer. If you have a history of ankle injuries, then there are specific ankle braces that are appropriate for a particular situation. Again, a doctor or sports medicine therapist will help you determine which is best for your ankle(s).
So now that you know if you need basketball ankle braces or not, you can check out the best options in the market:
1. CopperJoint Compression Ankle Sleeve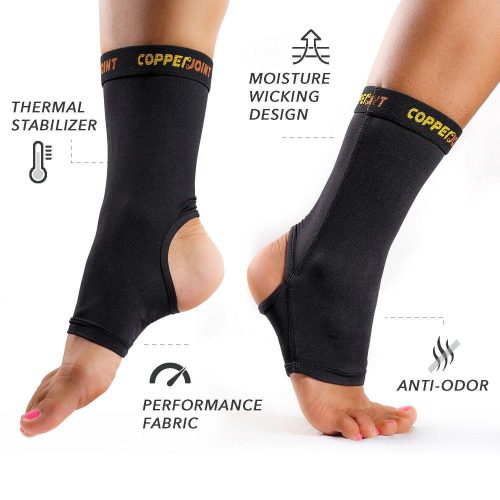 CopperJoint Compression Ankle Sleeve is definitely a quality product and one of the best ankle braces for basketball players.
Built by a highly trusted company with over 866 positive reviews on Amazon.
As a compression sleeve, it works in a variety of ways on your feet. First, it accelerates recovery by stimulating oxygen delivery and by promoting better blood flow to injured muscles. In addition, it reduces inflammation and speeds up the recovery process.
As a basketball player, the most frequent injury is an ankle sprain and this sleeve is ideal for helping you bounce back to normal after an injury. With a breathable fabric, it keeps your feet dry as you wear it. It's also made from a copper infused nylon.
Copper has been used for thousands of years to help reduce inflammation, so it's a great aide in helping to heal your injured ankle.