Article Last Updated: December 1, 2023
According to American College of Sports Medicine (ACSM), more than 25,000 individuals encounter any kind of lower leg damage every day, just in the United States alone.
Basketball has a high rate of ankle sprains, ankle injuries and even if you have never experienced an injury to your lower leg, this best basketball ankle braces article will outline the benefits and products to keep your ankle and tendons healthy and strong.
Why should you protect your ankles?
Basketball is a high impact sport, especially on your ankles.
Playing it can be rough on your lower leg due to all the jumping, twisting, and sudden changes in direction, which put your feet at risk of injury.
So, the safest way to play basketball is to have a good ankle protection.
It is important to support your ankles while playing a sport you love.
If the injury occurs, a good basketball ankle support can protect your foot properly so you can continue playing without causing further damage.
As a player, you want to choose an ankle brace that will provide high-quality support while you play.
So, how do you make a choice when there are so many types and brands on the market?
In order to make a smart purchasing decision we have listed the top 10 below.
What to Look for When Buying Basketball Ankle Braces
Before you buy the best ankle brace for basketball, ask yourself the following questions:
What Will I Use Ankle Braces For?
You want to choose ankle braces that work best for your needs.
There are many different types of ankle braces from compression sleeves to hard-sided braces.
Generally, compression sleeves work best with basketball as they have to fit inside your shoe.
However, compression sleeves vary as well with different sizes and healing properties.
It really depends on what your personal preference is when it comes to healing properties. The below selection will help you decide which will work best with your body.
If you have serious problems with your ankles, consult with your physician first.
How Do They Fit and Feel?
You need them to fit well and to remain comfortable during movements.
Too tight and your foot may get numb. Too loose and you risk injury.
Most manufacturers will offer a foot chart. For narrow feet, go a size down. For wider feet, choose a size up!
How to fit an ankle brace properly
How Durable Are They?
Buy a quality brand to ensure the elastic will not wear out quickly and lose its form easily.
Make sure you wear quality socks to reduce friction. Before you make the final decision, think it over because ankle braces can be very important for any basketball player, and there are quite a few styles to choose from.
If possible, get a professional opinion to see if you really need one or not.
Ankle braces are ideal for basketball players who have a foot or ankle injury that is healing. Some players like to use the same brace to help prevent injuries, when in fact this is not necessarily the most effective piece of gear.
Some are designed as foot sleeves, which act more as a sock-like support system rather than an injury stabilizer.
If you have a history of ankle injuries, then there are specific ankle braces that are appropriate for a particular situation.
Again, a doctor or sports medicine therapist will help you determine which is best for your ankle(s).
So now that you know if you need ankle brace for basketball or not, you can check out the best options in the market:
Best Ankle Braces for Basketball
PROS
Steel stays provide reliable support
Maximum protection
Reduced weight
Ventilated tongue
CONS
​Some users find it supper tight​
McDavid is a leading manufacturer of knee braces, ankle braces, shoulder supports, protective padding, and sports apparel.
McDavid's innovations include HexPad protective wear, which protects athletes and enhance performance.
Technically advanced performance garments made from McDavid include hDc fabric and Re-Skin blister prevention patches.
This group of ankle brace for basketball is perfect for high-impact games, based on their simple design that delivers maximum security.
Made of vinyl material, they are durable, lightweight, and available in multiple sizes.
In addition, it comes in two different colors but mostly, it is affordable and comfortable.
PROS
Mild-level support
Prevents ankle sprains and rollovers
Low-profile structure
Single strap
CONS
​May be too small for some users​
This is a fantastic option for those looking for support and affordability. You will also like this basketball ankle support because of its unique features.
The additional side padding and a single strap application make this support brace easy to wear.
Besides, this ankle brace is fairly light and thin so you can use it with regular shoes.
Its innovative design prevents foot from sweating, which help you boost your performance in the field.
More importantly, this ankle stabilizer is molded at a 60-degree angle to help guard against ankle sprains and to prevent rollover.
Manufactured from a breathable material, the A60 ensures that the wearer stays comfortably cool and dry, while the lightweight anatomic design easily fits in athletic footwear without creating additional bulk.
What's more, you can apply and adjust the Aircast A60 with a single strap that securely holds it in place, replacing time-consuming lacing.
The A60 Ankle Support is available in three sizes: small, medium, and large, with left and right models.
However, it is not laced with natural rubber latex.
PROS
Higher durability than most other compression sleeves.
Helps joint/muscle recovery through Copper
Reduces time of injury if used as recommended
100% latex-free
Eliminates odor
CONS
Only one piece per package which can get a little expensive if both ankles are weak.
CopperJoint Compression Ankle Sleeve is definitely a quality product and one of the best ankle braces for basketball players.
Built by a highly trusted company with over 866 positive reviews on Amazon.
As a compression sleeve, it works in a variety of ways on your feet.
First, it accelerates recovery by stimulating oxygen delivery and by promoting better blood flow to injured muscles.
In addition, it reduces inflammation and speeds up the recovery process.
As a basketball player, the most frequent injury is an ankle sprain and this sleeve is ideal for helping you bounce back to normal after an injury.
With a breathable fabric, it keeps your feet dry as you wear it. It's also made from a copper infused nylon.
Copper has been used for thousands of years to help reduce inflammation, so it's a great aide in helping to heal your injured ankle.
PROS
Synthetic material
Improved comfort and protection with gel
Firm grip
Anatomical foot bed
CONS
May be too tight on some feet
A lot of innovation goes into this unique lace brace. So for sure, you will be pleased with the features it brings.
First, it provides protection and comfort to your ankle, which relieves you from worry and enable you to concentrate on the game.
The gel padding acts as a shock-absorbing layer that makes it easy for you to move all over the basketball playground.
Laces ensure the ankle support stays in place.
Shock Doctor Ultra Gel Lace Ankle Support is made of nylon and polyester that makes it rest easy on your ankle.
Thanks to the synthetic materials, you will also be able to control humidity inside of your shoes.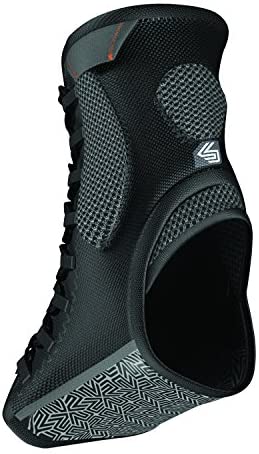 Shock Doctor 849 Ultra Gel Lace Ankle Support
PROS
Muscle tissue stability
Easily washable
Improved blood flow to the muscles
CONS
Alleviates arthritis, tendonitis, and muscle inflammation
Some users find it uncomfortable
Can be too small for some feet
This is another copper infused ankle sleeve, which is great for basketball players.
The copper-infused nylon contains 88% nylon, which is great for helping your ankle on the road to a speedy recovery.
It greatly reduces inflammation and helps relieve pain.
Quite similar in price and style to the previous sleeve, this great compression sleeve promotes blood flow to the lower leg, which makes you feel comfortable as you play.
The only thing to watch out for is the size that you order.
PROS
Sectional design
Seamless structure
Ideal for both feet
Lightweight and works well with most shoes
CONS
Actual size may not follow size chart
The Mueller adjustable ankle brace stabilizer has a fully adjustable design that provides a custom fit and firm compression.
This makes it ideal for sprained, strained, and arthritic ankles.
The lightweight design is ideal for extended use and fits in most shoe styles.
The side stays help provide firm lateral support and protection while the figure 8 strapping feature offers custom support and controlled compression.
This ankle support is manufactured with extended height above ankle, which helps provide additional stability.
The ankle brace is treated with Aegis microbe shield to keep the product fresh and odor free.
Interestingly, these ankle brace for basketball are probably the most affordable.
They are also made to be used over socks, and so do not require special shoes.
Mueller Adjustable Ankle Stabilizer Review
PROS
Lightweight
Low-profile design
Easily removable
Suitable for athletes
CONS
​Some users find the laces difficult to tie​
The DonJoy Stabilizing Pro's durable, lace-up design helps control inversion and eversion of the ankle.
This stabilizing ankle brace will also fit easily into a basketball shoe.
The lightweight POD ankle brace takes away the hassle of taping your ankle. It definitely provides "Protection on Demand" preventing your ankles from Rolling.
The DonJoy Stabilizing Pro also offers mid-level support without the bulk of laces, stays, or straps.
The Stabilizing Pro Ankle Brace is designed to meet the needs of demanding athletes. It features 800D ballistic nylon and reinforced eyelet area for outstanding performance and durability.
A full circumferential elastic strap secures all strapping and provides tibia/fibula compression and stability.
Lace-up design and trimmable figure-8 strapping locks the calcaneus into place and controls inversion and eversion of your ankle.
Finally, it is removable, with articulated medial and lateral stays that enhance comfort and stability. It works well with athletic or street shoes.
PROS
Lightweight (4 ounces)
Antibacterial qualities
Deodorant qualities
3 different belts for stability
CONS
Can be tight on some feet
These basketball ankle braces use Velcro, which allows the user to adjust its tightness accordingly.
Made of polyester and nylon fabrics, they provide a new cut in the heel and offer superior movement, with three belts providing better support and stability.
Besides, they are available in four different sizes, and all of them are adjustable.
PROS
Strong plastic stays
Stabilizing straps
Bilateral design
Made in USA
CONS
Can be too tight or too lose on some feet
If you are not interested in a compression sleeve, then the ASO Ankle Stabilizing Orthosis is a more traditional model.
It provides the right amount of support for all of the common injuries for a basketball player such as sprains, rolled ankles, and others.
With its stabilizing straps, it allows you to choose the tightness level and it will fit on either the left or the right foot.
It is a favorite among players, doctors, and sports medicine therapists.
You cannot go wrong with a product that the pros love!
With that in mind, it is easy to see why it is one of the best ankle braces for basketball.
More importantly, the figure eight form supports the ankle and offers a cuff closure for a tighter fit. Slim but sturdy, this brace fits a wide range of basketball shoes.
PROS
Improved muscular performance
Made of synthetic rubber
1-year warranty
Adjustable hook and straps
Prevents injuries
Spalding's One-size synthetic rubber ankle support is universal and fits both ankles.
The support features a closed cell 18-inches, a synthetic rubber that retains body heat for better circulation.
It comes with adjustable hook and loop straps for fit and controlled compression. This support brace enhances muscular performance without binding.
Additionally, it has the ability to fit into high shoes. You will enjoy the universal design that fits both your left and right ankles.
With a soft, fleece-like material and adjustable straps, it enhances performance while keeping your feet dry.
FAQ's
Should basketball players wear ankle braces?
Yes, basketball players are recommended to wear ankle braces. It is specifically designed for basketball players to protect the joints and reduce the risk of repeated injuries.
Are ankle braces effective?
Wearing an ankle brace can help an injured athlete reduce the risk of reoccurring injury. As opposed to popular belief, wearing an ankle brace does not prevent injury.
Wearing them all day may even cause injury to the ankle and knee or result in ankle and knee mobility problems.
Is it bad to wear an ankle brace all day?
Ankle braces are best worn for a short time and for rehab purpose. Wearing it every day to prevent injury may likely weaken your ankle.
What ankle braces do NBA players wear?
Check out this Best Ankle Braces for Basketball Players
McDavid 195 Ankle Brace
Mc David 199
McDavid 511 Ankle Sleeve
Zamst A2DX
ASO Ankle Stabilizer
Do ankle braces weaken the ankle?
An ankle brace performs an excellent ankle support work to manage your ankle injury. You can wear it for a short time frame to support your rehab/recovery process after injury.
Consistently wearing it to prevent injury may weaken your ankle.
Final Thoughts
It's not always necessary to wear ankle braces. Nevertheless, basketball can trigger injuries through changing directions quickly, moving up and down the court, jumping, and landing, not to mention collisions with other players.
All of these actions can lead to twisting your ankle. That means the ligaments could overstretch or tear in your ankle.
This can lead to a limited range of motion and can be quite painful.
To conclude, here are important tips to follow when you have already hurt your ankle:
When a twisted ankle first occurs, you should:
Rest: Do not put any more weight on your foot or ankle.
Apply ice: To reduce swelling, place an ice-cold material on your ankle to avoid placing it directly on the affected area. Leave it for more than 20 minutes.
Compression: It can help reduce swelling, as well as immobilize and support the ankle.
Elevate: place the ankle above heart or waist.
Most importantly, take care of yourself on and off the basketball court!
Playing basketball can be rough on your ankles.
Due to all of the jumping, twisting and sudden changes in direction, you are constantly putting your feet at risk for injury.
So take care of yourself, don't forget to consult a doctor if the problem appears uncontrollable.