Article Last Updated: October 1, 2021
Professional athletes make quick movements which, on the surface, look easy.
But a single weak link can cause insurmountable pain to even the most powerful athlete.
When it comes to basketball, the part that is most susceptible to injury is the ankle.
For a long time now, both players and coaches have been depending on ankle braces and tape to prevent them from rolling their ankles.
But these accessories don't play as big a role compared to footwear.
If you have a particular problem with your ankles, you need to look for shoes tailored to help your healing process.
The focus of our article is on a common problem amongst basketball players- weak ankles.
We've reviewed the best basketball shoes for weak ankles and recommended other ways to strengthen your ankles.
Features new styling and innovation that will enhance your game on the court.
A Bounce midsole gives the shoes lightweight cushioning, and a midfoot banking barrier provides lateral stability for quick changes of direction.
Provides adequate ankle support without getting in the way of your movement or speed.
Top 5 Basketball Shoes for Weak Ankles
The Hyperdunk 2015 RPM truly lives up to its name, that is, it enables basketball players to perform stunning dunks.
It is no wonder that the manufacturer decided to name this pair of best basketball shoes the "Hyperdunk".
Other than the cool name, the footwear sports a full-fledged padding all round the forefoot and the heel.
The purpose of this is to provide you with ample support and protection against shock, and impact. This feature also enhances comfort.
But the primary feature that makes it suitable for weak ankles is the high-top structure which provides ankle support.
What we like most about this design is that protects your ankles without compromising your momentum.
Furthermore, the Hyperdunk features Nike's exceptional Hyperfuse upper.
This technology provides a breathable and supportive upper construction without any extra bulk.
Lastly, this pair of best basketball shoes is equipped with herringbone pattern on the outsole.
This provides superb traction force that players need on a basketball court.
Well-built high top structure for ankle support
Great traction due to the herringbone pattern
Hyperfuse upper is both lightweight and breathable
When you think of sports apparel with ankle support, what is the one brand that comes to mind?
For many, its Adidas, which has grown to become a key leader in the sporting goods sector.
Their products are made of high-quality materials, and the Dame 5 is no exception.
A high-top basketball shoe, this footwear is perfect for basketball players with weak ankles.
Plus, it's outfitted with the manufacturer's Bounce midsole.
Essentially, the midsole constitutes EVA foam, which has been reengineered to increase comfort, proper ankle support and provide a responsive experience when you're playing or running.
Perhaps the only drawback is that it does not come in as many color options as our top pick.
The Dame 5 basketball shoes is available in 11 color combinations while the Hyperdunk RPM comes in at least 33 shades.
But even then, you get to choose from several colors, all of which look pretty stylish.
Has herringbone pattern to improve traction
The shoes have good responsiveness and bounce
Rubber outsole enhances the grip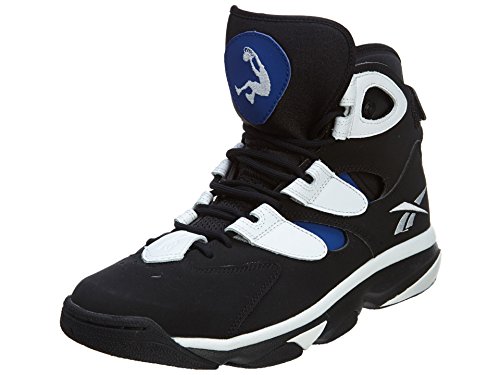 If you're looking for top basketball shoes with great ankle support, consider Reebook Men's Shaq Attaq.
These footwear are constructed using synthetic, imported material and feature a rubber outsole for utmost durability.
Another noteworthy feature of this pair of sneakers entails the removable inserts.
This one of the best basketball shoes gives you the opportunity to add your own insoles and padding for the footbed so as to increase support and/or cushioning.
The Shaq Attaq Fashion Sneaker sports a mid-cut design. To be specific, the shaft is about 5.5 inches from the arch.
The benefit of this structure is that it provides adequate ankle support without getting in the way of your movement or speed.
Unfortunately, this footwear is only available in 4 color combinations.
However, the colors look really chic; hence living up to the description of being a "fashion sneaker".
The color combinations available are purple/blaze yellow/ white, black/azure, white/black/ azure steel and black/purple.
Mid-cut design offers excellent support
Has removable insoles
Rubber outsole has good traction
One of the most sought-after basketball shoes is this pair by Under Armour. The ClutchFit Drive 3 has several features that make it unique and ideal for playing basketball.
For instance, it's equipped with the manufacturer's Micro G cushioning system.
This is the feature responsible for the responsive and bouncy feel you get from this footwear. Micro G is a kind of foam, which is 30% thinner than conventional foam.
Another aspect that makes the ClutchFit Drive 3 stand out is the charged cushioning.
This helps to absorb shock under the heel section; hence, provide a soft landing whenever you're jumping or running.
While most best basketball shoes have herringbone pattern, Under Armour has gone as far as designing the traction in a diamond pattern. This feature provides greater ankle support, control and traction.
Great ankle support and traction on a variety of surfaces
Innovative bear-trap lacing mechanism to provide a snug fit
Achilles pillow for additional padding
The Crazy Explosive is another pair of best basketball shoes worth checking out if you have weak ankles.
They're designed with an elevated shaft, which provides sufficient ankle support as you play.
The full-length padding also enhances comfort, especially when you're making complex moves.
According to the manufacturer, the lacing system has been refined so as to minimize pressure on the laces while still providing a snug fit.
Plus, the sole is made of high-quality rubber to enhance grip on different surfaces.
The Crazy Explosive basketball shoe is available in three colors and sports xeno material for the upper construction.
First introduced in 2015, xeno is a material that alters its colors depending on the amount of light available.
Has a redesigned lacing system
Innovative xeno technology for the upper
Elevated shaft for ankle support
What are Weak Ankles?
According to the American College of Foot and Ankle Surgeons, weak ankles are often caused by previous injuries.
When you sustain an injury, the ligaments of the joint are stretched and in worse scenarios, torn.
An injured ankle makes it difficult to balance properly and unless you put effort into strengthening and rehabilitation, your ankles will become quite weak.
To back this up, Healthline also cites previous trauma or injury as one of the major causes of weak ankles.
There are several treatment options available to individuals with weak ankles.
These include physical therapy, bracing and surgery depending on the severity of the condition.
But in addition to treatment, there are several things you can do to strengthen your ankles over time. The most important of these is wearing proper footwear with great ankle support.
According to this study published in BioMedCentral, a high percentage of the population wears ill-fitting shoes.
Due to this, a lot of people suffer from foot pain and foot disorders including weak ankles.
How to Strengthen Weak Ankles
In the study mentioned previously, the two key solutions to weak ankles entail increasing awareness of footwear fitting and providing a wider range of shoes capable of accommodating the differences in foot morphology.
Although these are excellent recommendations, they're not tailored for athletes. If you're a basketball player, what you need to do is:
Strength Train Regularly
Put simply; strength-training is a type of exercise where the end goal is to increase strength of muscles, in this case your foot.
This is achieved by doing several repetitions of a given exercise, which should be performed with high resistance. emedicinehealth states that strength training not only increases the strength of your muscles but also the tone, mass and endurance.
Improve your Ankles' Flexibility
If you have weak ankles, then it's important to do stretches and rotational exercises which make your ankle muscles more flexible and mobile. Here's an example:
In a standing position, face a wall and press your hands against the wall at shoulder height.
Then using your right foot, take a huge step back and press your right heel towards the ground.
Maintain this pose for 15 to 20 seconds before repeating this move on your other side.
This exercise not only helps to stretch your calf muscles but your ankle muscles as well. In fact, it boosts the range of motion in this area.
Why It's Vital to Keep Your Ankles Strong
Basketball sometimes requires you to make complex moves to excel; from dunking to making spin moves, running, jumping and more.
Unfortunately, your ankles and the muscles that surround them are on the receiving end as they're put under a significant amount of stress.
If your ankle musculature is in good form, you'll be able to engage in this sport for a long time before you sustain any injuries.
Apart from mitigating the risk of injury, strengthening your muscles also helps to keep chronic conditions at bay.
These include diseases such as shin splints, where you experience intense pain on the large bone at the front of your leg; and Achilles tendonitis, which is characterized by an inflammation of the calf muscle tendons.
High vs. Low Tops: Which are Better for Weak Ankles?
Based on the type of sport, players can wear either high-tops, low-tops or mid-tops. In basketball, for instance, the trend has been to use high-top shoes that have quality treads so they can grip the court.
This structure is particularly vital because it's gentle on those who have weak ankles and ankle injuries.
It also helps to prevent ankle injuries from happening in the first place.
Are Low Tops Ideal for Basketball?
Does that mean that there aren't any players who wear low tops in basketball courts?
No, it doesn't. In fact, there are those who wear low tops exclusively. Due to their lightweight design, they enable players to gain speed and momentum on the court.
This lightweight feature also means that players can comfortably play on the court without experiencing fatigue too quickly.
The only problem with low tops is that they offer minimal support for your ankles, which makes them unsuitable for people suffering from ankle injuries and those with weak ankles.
Since they don't extend to your ankle, they increase your susceptibility to injuries on the court, especially when you make abrupt turns and on-the-go landings.
The Case for High Tops
While high tops are considerably heavier than low tops, they offer ample support for your ankles. This prevents you from turning your ankle when you make a sudden direction change.
Usually, these shoes also offer greater support and cushioning on the inside too. This prevents stress fractures and additional injuries like plantar fasciitis.
How to Keep Yourself Safe
Even though there's no foolproof way of ensuring that you don't hurt your weak ankles when playing basketball, taking a few precautions will go a long way. More specifically, you should consider wearing high top sneakers.
If you opt for low tops, then it helps to wear ankle braces that extend slightly higher than high-top shoes.
Alternatively, you can tape your ankles, and benefit from the additional support they provide when you're jumping or executing fast stops and starts.
If you choose tape, be sure to use strong athletic tape and wrap it around your ankle and under your foot.
Final Verdict
If you have weak ankles, either because of a previous trauma or injury, there are a couple of things you can do to improve your basketball performance.
You can take part in physical activities that strengthen your ankle musculature.You can also wrap tape around your ankle to increase support.
But the most important thing is choosing the right footwear. Usually, high tops are the most recommended because they offer ample ankle support.
A good example is Nike Men's Hyperdunk 2015 RPM. Its high-top design best basketball shoes means that your ankles will be well protected while the Hyperfuse upper enhances breathability and comfort.
These footwear or basketball shoes also have herringbone pattern on the sole to increase traction.