Article Last Updated: Sun, October 1, 2021
This article will go into detail on how to choose the best shoes for broken toe and postoperative recovery.
If you've recently undergone surgery on your foot, or have a broken toe, you're probably going to be advised to avoid loading any pressure on your food for a specific time.
The best way to quickly heal a foot or ankle injury is by having a motionless rest.
However, this can be cumbersome and impractical because of our daily and busy schedules.
Fortunately, the invention of cast shoes has solved this issue.
Cast shoes are the best way to keep up with your daily activities while providing your injured foot with the needed protection, support, and healing time.
With all the different cast shoe brands and post-operational products on the market, you can get easily and quickly overwhelmed, and this is where we come to the rescue.
Providing stable protection following post-operative procedures and forefoot trauma, the post op shoe by Vive is lightweight and durable.
Adjustable ankle strap and padded heel minimize heel slippage and allows for proper foot positioning.
Clinically proven to Protect & Treat a broken toe or broken foot, metatarsal fracture, stress fracture, or ankle injury where you need to immobilize your foot, yet be able to walk while you heal.
5 Best Shoes for Broken Toe Recovery from Operations and Fractures
The following list features the best shoes for broken shoe or broken foot, stating what we liked and what we didn't like about each one of them.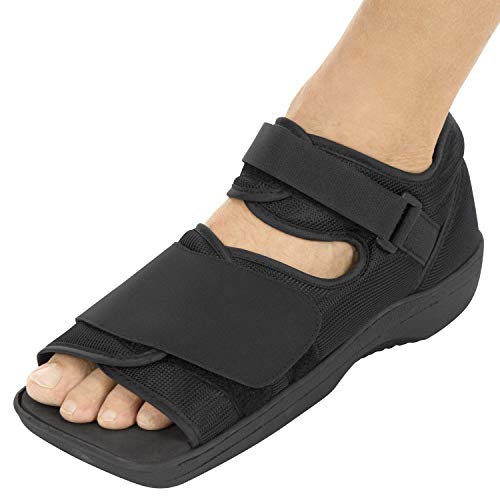 The first cast shoe on our list is Vive Post Op medical walking boot. This cast shoe provides lightweight support to your feet to allow for free and easy movement.
The post-op medical walking boot offers good protection and support to your foot in case of a broken toe or broken foot and during rehabilitation after surgery.
The front part of the cast shoe acts as a shock absorption to protect your toes from shocks and worsened injuries.
One of the best things about this medical walking cast shoe is that it can be used by both men and women.
Additionally, the roomy insole allows for using this medical shoe alone or with bandages and casts to keep them clean and free of dirt. This can be easily achieved thanks to its two adjustable straps.
The adjustability on these straps can control the wrapping fitness around your foot. This allows for a snug fit or having extra space for dressings.
Vive Post Op medical walking boot is designed with arch support. This arch helps in holding the foot in a correct position to achieve the maximum level of pain relief while in recovery from surgeries, fractures, or sprains.
The sole on this shoe is rocker shaped to provide a normal step while walking without the need to bend or use additional crutches.
One of the main downsides of this cast shoe is that it doesn't provide a large space on the toe section, which gets the toes closer to the edge of the shoe. However, this shouldn't cause an issue if you walk with the required caution.
Long velcro sheet provides a secure fit
Gender-neutral shoes
Lightweight for extra comfort
Provides a 60-day unconditional warranty for the product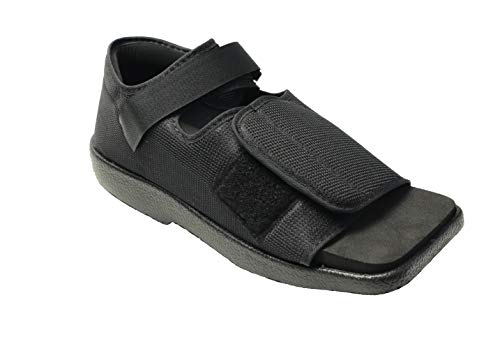 The second cast shoe on our list is from Mars Wellness Premium.
They're known for producing lab tested and great quality products for foot care such as cast shoes and walker boots.
This cast shoe offers advanced protection for broken foot , broken toe, toe fracture and foot injuries.
It offers an extended toe box that acts as a bumper for shock absorption and dissipates it.
While Mars Wellness premium walking shoe allows a great level of toe protection, it also allows for aeration and breathability inside the dressing to retain its cleanliness.
This also helps to maintain your toes dry while wearing this square toe walking shoe, which along with aeration, protects the foot from fungal infections due to dampness.
The footbed is designed to support the foot while giving it comfort so you can carry on your daily activities while wearing this cast shoe for a long time.
Mars Wellness Premium also features a rocker sole which provides a confident and natural gait.
The shoe's tread is also made of a non-skid material so you can walk safely on slippery surfaces.
The top strap is offered with an extended length so you can cut it according to your liking. By trimming the strip to your measurements, you can achieve a perfect snug fit on your foot by then wrapping the highly attaching velcro sheet on your foot.
The best thing about this square toe walking shoe is that it's designed so it can work on both legs without worrying misfits. Although this shoe is intended for men's feet only.
Trimmable strap sheet for perfect fitting
Durable front toe section for added toes protection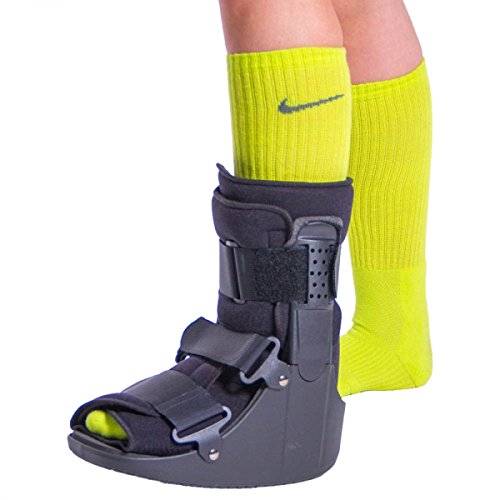 BraceAbility is the first Boot on our list. Boots are a more suitable design in post bunion surgeries, hairline and stress fractures in ankles and feet, sprained big toe or ankles, and broken toes recovery.
Walker boots are designed to allow for more freedom in mobility while providing full support, stabilization, and protection to your foot.
This can help to improve the quality of performing daily activities while recovering from foot injuries or surgeries.
The mobility and freedom in these boots come from its lightweight body and minimalist design.
However, the strong polymer shell is hard enough to provide rock-solid protection around the injured area.
BraceAbility walker also provides a secure fit to your foot due to the triple strap system on the front of the boot.
The soft fiber cushioned liners also offer comfort to your foot while wearing the boot for a long time.
The good thing about BraceAbility walking braces is that they have a rocker sole that allows for a natural and confident gait.
Additionally, the footbed is wide enough to be worn on socks, dressings, and bandages.
The bottom treads on BraceAbility short walker boots are also skid resistant. These treads protect you from slipping on smooth surfaces, making getting around safer and more secure.
Offers a decent level of comfort due to extra pads and foam liners
Features advanced protection with its durable polymer shell
High security due to its three straps and medical-grade velcro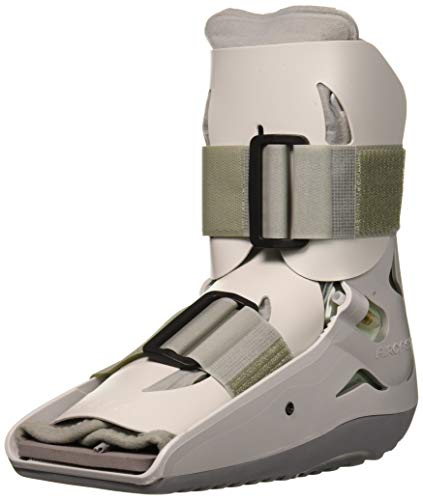 Last but not least, we have the second boot appearance on the list. The Aircast short Pneumatic air cam boot is specifically designed to preserve mobility while in recovery.
The special design makes it easy to wear the same boot in the left or right foot without worrying about the fit, saving you the cost of buying a new walker boot for the other leg.
With Aircast short Pneumatic boots, you can carry out your daily activities with ease, due to its comfortable fit and the low-profile rocker soles that support healthier and more confident gait.
The boot features a hand air pump for the highest level of comfort, customization, and support, around your injured foot.
The short pneumatic walker brace from Aircast can aid in the treatment of many conditions such as advanced post-operative recovery, severe ankle sprains, and broken toes.
Although running isn't recommended while having a foot injury, Aircast SP can be the closest thing to the best running shoes for broken foot or broken toe.
If you aren't considering a budget while opting for a walker brace to perform your daily activities with almost flawless freedom, then spending some extra cash on Aircast Short Pneumatic's added comfort and protection is the right thing for you.
Features an air bladder that provides extra comfort and snug fit
Multi-purpose shoe that can be worn by women and men
The next item on our list is FitPro's pediatric square toe cast shoe. This cast shoe has a lot of technical features that make some users claim that it's the best shoe for broken baby toe. Let's check its attributes.
The sole on this open square-toe shoe is moderately rigid, where it's hard and durable enough to protect and support the injured foot, but also flexible to allow for comfortable and pleasant wear.
This can prove advantageous in the case of little kids, as being comfortable in the cast shoe help them keep it on without complaining or being annoyed, speeding up their recovery time.
Since kids are playful, FitPro gave huge attention to the rigidity and space extension of the toes area.
The extra space works as a bumper to protect the children's toes while moving around.
Another interesting thing about these pediatric shoes is that it's highly adjustable due to its velcro closure, allowing for a perfect fit.
However, the shoe is available in a wide range of kid sizes to easily fit any foot size.
The shoe can also go on and offer pretty quickly. Additionally, the spacious interior offers a large space allowing for the shoe to take up dressings, bandages, and casts easily and adequately.
The good thing about FitPro's pediatric cast shoe is that it can be worn by boys and girls and on either foot without a problem.
Perfect for babies with a broken toe or broken foot.
Feature a rocker sole that protects kids from falling
Factors to Consider While Shopping for a Cast Shoe for Broken Toes and Post-Op Recovery
While searching for your ideal cast shoe or walking brace, there is an important set of viewpoints to consider in order to land the choice that suits you the most.
Here's a checklist of the most important factors you should keep in mind while looking for the best post-op shoe for broken toe.
Extra Toe Space
One of the most important factors to check while looking for a cast shoe is the extra spaces in the toe section.
This space is extremely essential in the case of broken toes as it acts as a shielding bumper that protects the toes by preventing their direct contact with the surfaces.
Durability
Another highly essential aspect to consider in both cast shoes and short walker boots and braces is the level of rigidity of their construction.
The stiffer the external body of the medical boot, the more Immobilization, support and protection it can provide to the feet.
Don't run for the hardest shoe you can find. Instead, choose a boot that gives you the quickest healing time while providing you with a decent level of comfort and flexibility.
Fitting
If you want a safe recovery time with no further injuries or worsening of your case, then it's crucial to find a cast shoe or boot that perfectly fits your foot.
With a snug fit on your foot, you're going to avoid having a wobbly and unstable foot inside the medical footwear. This can be one way to protect yourself from falling or tripping.
Always make sure that your feet have the correct stance and arch support it needs for a natural posture and gait.
Adjustability
Always check for straps that provide a snug fit. It's recommended to go for trimmable straps whenever possible, as they offer a tailored perfect fit.
Moreover, of the straps are attached with velcro, make sure it's medical-grade velcro sheets
Soles
The other key to a stable stance and confident gate lies in the soles of the braces and shoes. Always check the soles and make sure that they're shaped like a rocker.
Rocker shaped soles offer the most natural ambulation compared to flat soles that make walking properly a tough challenge.
It's recommended to opt for sole materials that are skid resistant such as rubber. Besides giving you a high sense of traction while walking, they also protect you from slipping and worsening your injury
Fitting Left and Right Feet
Although we all wish that you never need them again, sometimes we might have to use the medical shoe on the other foot for any reason.
It can be highly inconvenient to find that your shoe is specifically designed to fit one foot only. Consequently, it's always recommended to go for a free design that fits both feet whenever possible.
Final Words
Protective medical footwear is offered in various shapes and sizes. It's essential to choose the one that fits your requirements.
Generally, in the case of simple toe fractures, you don't need a hard cast around your foot. This means that a hard-soled, protective post-op support shoe such as Vive Post Op or Mars Wellness Premium square toe walking shoe can do the trick.
However, if you think you need extra protection for a slightly more advanced injury, then a walking boot such as BraceAbility walking boot will provide the protection and support needed thanks to its hard shell and foam liners.
So if you're more on the boot side, BraceAbility's Boots are the best shoes for toe in your case