Article Last Updated: October 1, 2021
Metatarsal stress fractures are a big problem for runners and any other athletes. 
The metatarsals are the five bones that create the arch connecting your toes to the middle of your foot.
A stress fracture in this area is typically the result of repetitive activity and overuse, as seen in any sport that requires running.
This type of injury requires medical attention.
To aid in the healing process, you can choose between the best shoes for metatarsal stress fractures below.
Provides excellent mobility, protection, and support for day-to-day activities following foot and toe surgery or trauma.
Allows the dressing to be kept clean and toes dry, providing stable protection following post-operative procedures and forefoot trauma
Providing stable protection following post-operative procedures and forefoot trauma, the post op shoe by Vive is lightweight and durable.
Best Post-Op Shoes
If you have a stress fracture, a Post-op shoe is recommended. This is just the commercial name for these shoes, and doesn't necessarily mean that you would need surgery.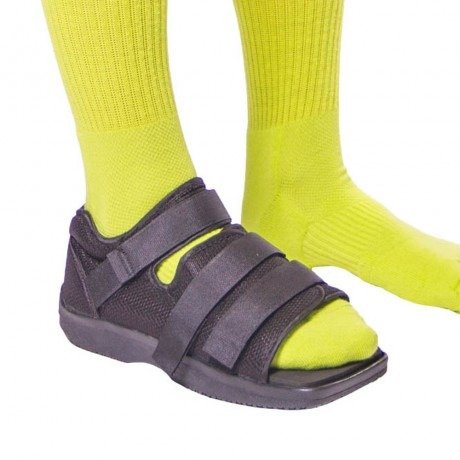 This shoe is a popular choice in this category.
It comes with several velcro straps to ensure a good fit, even with a bandage.
It has an open square toe that can fit on either foot and provides enough breathing room.
It has a stiff rocker sole, which is extremely important for recovery, and a non-skid tread that prevents slippage on ice.
Unfortunately, it's a bit slippery on hardwood floors.
Stiff rocker sole
Non-skid tread
Breathable
Large square toe bumper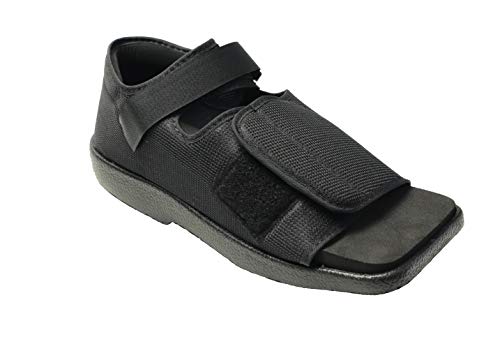 A high-quality product for a great price!
The first thing you notice about this shoe is that it's not bulky, and yet it has a solid, comfortable sole. The less bulky the sole, the more comfortable it is for your gait.
The strap is long and can be cut as needed, to ensure that it fits people of different foot sizes and bandages.
This shoe features removable insole, in case you want to customize it. It's also great for keeping your bandages clean and dry.
Low price and high quality
Not bulky, may not need extra adjustment for gait
Stiff sole
Keeps foot and bandage clean and dry
Removable insole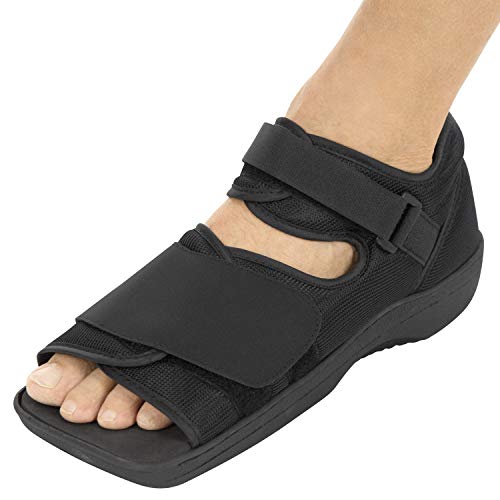 Another lightweight choice. This post-op shoe is built for a variety of foot injuries.
It has great arch support and reduced stress on the ankles and toes. It's adjustable and can be worn with or without bandages.
There are some problems with this shoe. It has a flexible sole, which is bad for recovery (You want the fractured bones to stay in place!). Additionally, some people report tightness and chafing around the ankles.
Great arch support
No-skid treads
Breathable
Less stress on the ankles and toes
Best Running Shoes for Prevention
In general, you want to pick shoes specifically made for your sport, but if you have a history of foot fractures or a condition that affects bone density, these shoes may protect your feet against possible injuries.
Of course, you should never run with a metatarsal stress fracture.
"Feels like running on air" is how most runners would describe these.
They are incredibly comfortable, including for people with a variety of foot injuries.
These shoes achieve this level of comfort with ergonomic design, breathable fabric, and great cushioning in all the places where it is needed.
Feels very light
Breathable
Great cushioning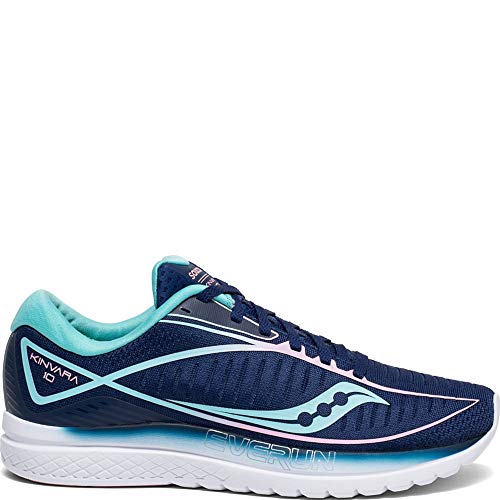 These minimalist shoes have pillow cushioning that serves two functions; it's super comfortable, reducing stress on the arch and toes, and it keeps the foot snug in place, which helps avoid metatarsal stress.
They're surprisingly cheap compared to some of the higher-end running shoes.
Some users (particularly women) complain of the length of the shoe box, which may be too long. This is strange, because the Kinvara 9 and older versions didn't have this. It's best to try it out before buying.
Good price
Excellent cushioning
Before You Buy
To understand which shoes are more suitable for the prevention and recovery of metatarsal bone fractures, look for the following criteria.
Arch Support
Your shoes must have a stiff arch support to hold the foot in place. If your shoes don't have this, consider at least getting a separate insole.
Fit
Tight shoes can add extra stress on your feet, and even prevent the bones from healing properly. Loose, wobbly fits can cause slipping and falling. Hence, a risk of reinjury. The best shoes are those that fit snugly.
Notice that post-op shoes may have a different scale for sizes. Sometimes they're generic (e.g. small, medium, large…).
To get the correct size, read the manufacturer's size guide. You don't need to get a larger size than normal because your foot is swollen, as these shoes have adjustable straps.
Post-op shoes are typically universal, which means they can be worn on either foot.
Durability
If you're only using the shoes until you recover, they should stay in great condition the entire recovery period (about 6-8 weeks).
If you're in a sport that demands repetitive foot stress, and are using the shoes as a preventative measure, you should expect them to last much longer. In either case, the quality is of the utmost importance.
Gait
Unfortunately, wearing a post-op shoe on the injured foot alone can cause an uneven gait, because they're typically longer than other shoes.
To avoid bad posture and joint pain, consider buying one for each foot. Alternatively, you can use a shoe balancer such as this one.
Breathability
You generally want to avoid sweating, as it can lead to slippage.
Breathable fabrics, perforations, and even open-toed shoes and sandals are great for this. If you know your feet tend to sweat a lot, or if you live in a warm climate, this becomes even more apparent.
First-Aid and Care Tips
If you suffer from a stress fracture, the best thing you can do is to cease the activity that caused it. In addition to any high-impact activity.
The second-best thing to do is to follow the RICE protocol, which stands for rest, ice, compression, and elevation.
For the pain, NSAIDs (Nonsteroidal anti-inflammatory drugs) are common, but they're not recommended as they may impair fracture healing. Instead, you could try other OTC painkillers.
Unless the pain is too unbearable, it may actually be a good idea to leave it. Pain is a vital indicator of whether you're applying too much stress on your foot.
Once 6-8 weeks have passed, don't go straight back to high-contact sports. Reorient yourself with more foot-friendly sports, such as swimming or cycling.
To Sum Up
Metatarsal stress fractures are a common injury for runners. You just have to treat your feet with care before a problem occurs, by using comfortable shoes and getting proper rest time.
In case of an injury, stop running immediately and follow the RICE protocol. Always consult your doctor for medical advice.
In case of an injury, it seems the BraceAbility Post-Op Shoe provides the most comfort, with enough space to wear it with or without a bandage, a stiff sole, and better support.