Article Last Updated: Sun, October 1, 2021
Taking part in sporting activities or keeping a regular workout schedule are entertaining activities that people do on a daily basis.
However, with all the fun comes danger, one of which is injury.
The injury could be on the arm, hands, muscles, knees or on the most injury-prone part of the body – the ankle.
Fortunately, ankle injuries are easy to manage allowing you to regain full use of the ankles in no time.
With the right kind of wrap or brace for sprained ankles, you can quickly get back to the activities you love.
Here is our list of best wraps for sprained ankles and a buyer's guide to help you choose the right product for your needs.
Providing additional stability and support for ankle tendons and joints, the heavy-duty ankle brace reduces the risk of reinjury.
Offer light support for minor pain, sprains and strains allowing for daily use for an extended period of time.
Gives an exceptional level of protection with a quick-fit single strap that is adjustable for both low-top and high-top shoes
Top 6 Wraps For Sprained Ankles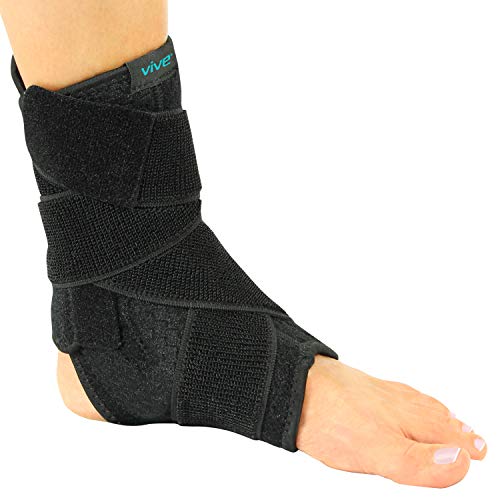 Vive always strives to build the best products to give their consumers a great experience. Their sprained ankle brace is not an exception.
This supportive brace features a medial and lateral strap that offers a superior compression and attaches firmly around your ankle.
It helps to reduce inflammation and pain, unlike other products, and safely holds the ankle with the help of strong fasteners.
Wearing it isn't a challenge, only that you will need a little more time than usual to slide it on.
However, other than its impressive compression level, this brace offers excellent stabilization for tendons and joints.
Its offers plenty of protection from new injuries, and pain reduction for ankle issues like tendonitis, sprains, arthritis and muscular fatigue.
All this is thanks to its adjustable compression bands that come with a cross-brace.
The brace also provides plenty of mobility, thanks to its customized fit that also features loops and hooks.
Its contoured profile incorporates an open heel design for greater motion. The fabric is lightweight and breathable, so your feet won't tire out as you walk.
Features a cross-brace design for maximum safety and compression
Offers plenty of stabilization for joints and tendons
Has strong loops and hooks for maximum pressure and strength
Breathable and lightweight neoprene fabric for comfort and mobility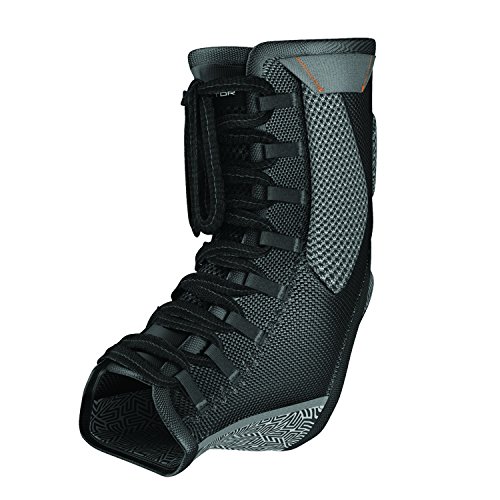 Shock Doctor offers a secure base in the form of a silicone sole.
With this ankle brace, you have the confidence to work out or move around with minimal impedance.
This brace provides level 3 comfort and stability to sprained ankles, so it's the most ideal choice for people suffering from joint instability and sprained ligaments.
This product is a lace-up wrap that offers an impressive level of compression to the ankle allowing for quick oxygen and nutrient supply to the injured area.
Shock Doctor comes with gel packs located in strategic points around the interior of the wrap for extra protection to affected area.
Plus, it's made out of neoprene. So, you also have absolute control over the level of compression with the help of laces and a compression wrap system.
This brace can be worn on either foot and is available in sizes S (8 to 8.5 inches), M(8.5 to 9 inches), L(9 to 9.5 inches) and XL (9.5 to 10 inches).
Product comes with gel cushioning
Features a non-slip footbed
Has easy to pull finger tabs
The brace features a pre-curved tongue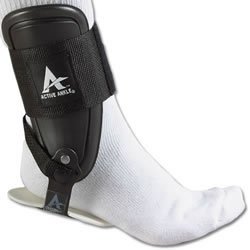 Active Ankles T2 is perhaps the most flexible rigid brace on the market. It features plastic plates connected by hinges as well as a large fastening strap that secures the brace against your ankle.
The hinges allow your ankle freedom of movement and you can walk as though you have no brace around your ankle.
Due to its impressive design, this ankle brace is a great choice for everyday use after a surgical procedure or ankle injury. It's also ideal during activities like basketball and volleyball.
High or low cut shoes? It doesn't matter! The strap is adjustable to fit the size of the shoes you are wearing.
Plus, if you tend to wear shoes with removable insoles or orthotic, you are free to place this brace under the addition for the best grip and comfort. You only need to remove the white pad that goes over the heel.
It features an EVA padding that was custom built so that it can contour to the ankle.
Coupled with its light construction and thin build, your ankles won't tire out as you walk. The brace can also be worn on either ankle.
Adjustable height, so it can fit over most types of shoes
Features a custom built padding
Single strap for easy fitting over the ankle
Has a rigid ankle stabiliser
Zoom is an ideal ankle brace for people who want the best product for the harshest of conditions.
It doesn't lower performance or restrict motion; rather , it helps people with ankle injuries achieve better motion without the fear of tearing or injuring the ankle.
It's best suited for almost all activities, including strenuous sports or a mere stroll on the sidewalk.
Putting it on takes very little time and it's able to protect the ankles for a long time. Additionally, it is a good brace for people looking to heal ankle injury within a short time.
This product is much more efficient than lace-ups of sleeves currently on the market.
The designer's purpose was to develop a product that promotes natural motion around the ankles and also deliver injury-free movement at all times.
Zoom Brace can last several years. it's available in two color options and sizes. small/medium sized people as well as large/extra large people will be able to find a brace for their ankles.
Durable and resistant for a worry-free user experience
Superb protection from injuries
Offers plenty of ankle mobility with very little restriction to movement
Takes very little time to put on and pull off
Helps injuries heal faster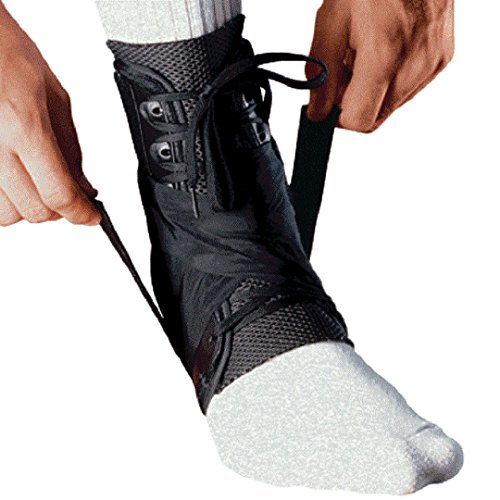 The company manufactures products that help to heal and prevent injuries as effectively as possible.
The ankle stabilizer does exactly what it advertises – it's an ankle brace with excellent protection and healing qualities.
The main advantage of this ankle brace is its ability to prevent injuries and distortion.
Users get plenty of support and stability allowing the ankle a full range of motion. The best part about this ankle brace is that you can wear it and take part in almost any sporting activity.
But, its main selling points is its high performance during mobilization and rehabilitation.
When you wish to heal out of a sprain or strain, MEDIZED makes an ideal ankle brace. It not only helps in healing and protection, but it also provides a lot of support to a weak ankle.
Its comfort and compression are exceptional, which, together with its protection characteristics, makes this brace a great choice.
With these merits you also get a skillful design that brings versatility. The design is low profile but very secure.
It's a great product when you want less restriction and a lot of stability.
Sturdy construction for the best compression level
Has prophylactic features for quick recovery of ankle injuries
Features a comfortable low profile design that allows you to engage all kinds of sports
Tightens up further for a pressurized and secure experience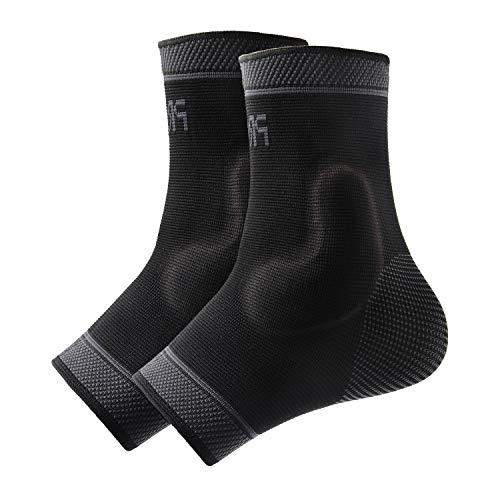 If there's a product you shouldn't fail to explore, then it's the Protle Foot Socks. It's an ideal choice for footballers with an ankle injury as it helps them perform almost normally.
Its manufactured out of latex, spandex and polyamide. Compared to others in the same category, these offer plenty of flexibility.
However, their real advantage comes is in the silicon gel lining the socks. The gel helps to support the ligaments and protect malleolus bones against any kind of injury.
With regards to pain relief, the socks offers excellent results. Its flexible design and soft construction create sufficient compression that relieves pain due to plantar fasciitis, tendonitis, and inflammation.
The brace helps to relieve stiffness and sores so that you can enjoy your favorite sporting activity.
Owning this product means you get to enjoy immense comfort.
The brace is incredibly flexible, which makes it entirely performance-oriented, thanks to an anatomical 3D design that ensures there is even pressure everywhere.
Plenty of breathability for added comfort
Features gel inserts for optimal ankle support
Offers pain relief for almost all ankle conditions while moving or playing
Features outstanding 3D technology for superior performance
What to Look for in a Wrap or Brace for Sprained Ankle
Features
One of the things to look out for is whether your prefered ankle brace provides additional support like built in laces or wraps.
That way, when you decide to wear your ankle brace, it's easy to tighten it up for added compression. The best wrap or brace for sprained ankle provides extra support compared to basic braces.
Style
Once you decide the type of ankle support you want, examine the design closely.
Knowing whether you need an ankle brace with laces, straps or something with both is crucial. If your goal is to find additional compression, a sleeve makes the most sense.
The best wrap for high ankle sprain or sleeve conform to modern fashion and they are available in a variety of colors.
You can easily find one that matches your socks or shoes. The materials used to design a wrap or brace is important as well.
Be cautious when choosing the material to ensure you don't pick one you might be allergic to, like latex.
Comfort
Comfort is an obvious consideration when choosing an ankle wrap. Only you understand what you need an ankle wrap for and how long you might wear it.
Find one that's lightweight so that your feet won't get tired as you walk or exercise. This is particularly important if you are a basketball or football player. Also, ensure you find out the best way to wrap a sprained ankle for basketball or football.
The easiest way to find out if the product you choose will fit is to test it at the store before you go home. If you prefer to order online, check consumer reviews to find out how the product felt and fit on other consumers.
Breathability
It goes without saying that breathability is an important consideration when it comes to ankle wraps or braces. There's nothing as uncomfortable as a hot and sweaty ankle.
It doesn't matter whether it's a compression or structural sleeve, there's going to be a risk factor as far as sweating is concerned.
For that reason, find an ankle wrap that is made out of a lightweight and breathable material.
Mesh makes an ideal material, so do those other types that expose some parts of the feet.
Price
Price isn't a reliable measure of the quality of a product. A big number on the price tag doesn't imply superior quality the same way a low price doesn't imply inferior quality.
To get the best value for your dime, perform extensive prior research to find out whether the product you want to buy is fairly priced.
Your feet, along with the ankle, carry your weight and offer stability and balance to your body as you move about.
So, finding a good product needs plenty of patience.
Conclusion
If you are nursing an injury, or are looking to support your ankles, a brace or wrap is a practical solution. Don't let pain stop you from doing what you enjoy the most.
Of course we aren't asking you not to take time to heal that ankle, but the next time you are out and about, be sure you have one of the braces we have listed on this review.
Of the braces we have reviewed, we feel the Vive Sprained Ankle Brace stands out. It features a cross-brace design for maximum safety and compression, provides plenty of stabilization for tendons and joints and has a strong loop and hook.
In addition, the product is breathable. It's guaranteed to provide you the best experience possible.