#1 Guides To Get Rid Of Your Ankle Pain
Are you looking for an Ankle Brace to help protect an existing injury or speed up a recovery?
Choosing the right ankle brace for your activity or specific injury is critical to ensuring you can get up and mobile again as fast as possible. 
With many choices for a first-time buyer, it can be difficult to understand which brace is best for you. Backed by many years experience, our doctors have created reviews, comparisons and buyers guides for the many ankle braces on the market. 
Browse by sport or type of injury below or scan through our articles for advice on the best way to manage your ankle injury. 
Our Top 5 Rated Ankle Braces
Our most popular sports ankle brace recommended by over 2200+ people. Featuring stabilizing straps that form a complete figure-eight to protect and support your ankle.
Best rated compression ankle sleeve on the market. Pain relief from a variety of ailments including plantar fasciitis, arthritis, sprains, swelling, tendonitis and much more.
Excellent brace built for jumping sports including basketball and volleyball. Highly adjustable brace with both velcro and lace strapping. Can be used both for the prevention of injuries and recovery. 
The Exo-Grid (Xternal) is a system that prevents the ankle from rolling inward (Inversion) and outward (Eversion). Extreme support for weak and injury prone ankles. 
Considerations to Take When Buying an Ankle Brace
There are different reasons that a person wears an ankle brace. But whatever your reason is, here are the important things you should consider when looking for the best ankle brace:
Materials used
The materials should be breathable, soft, and smooth. It is important that your foot remains cool or warm, the brace stays dry, and the inner fabric is soft. But bear in mind that the quality of the material also determines its durability. Those manufactured using high-quality materials are expected to last longer.
Reason for using
Determine why you need to wear an ankle brace. Is it for protection of or prevention against an ankle sprain? Are you suffering from sore ankles or recovering from an injury? There are various types of braces for different purposes. Be in the know of the type that matches your needs.
Comfort it offers
For maximum efficiency, you have to check to make sure the brace provides a good fit. It should not be too loose or too tight. Look for a brace that has straps or elastic material that can be adjusted to provide the right fit, protection, and comfort for your ankle.
Safety
An ankle brace should serve its purpose —whether it's for healing, protection, or prevention. This is to ensure the safety of the user because wearing the wrong type of ankle brace can do you more harm than good. You may opt to have them customized to meet your needs.
Price
Price doesn't always reflect the quality of the product. A high price doesn't necessarily mean good quality just as a low price doesn't indicate poor quality. As a responsible buyer, you should do enough research to determine if your prospective product is reasonably priced.
Your ankles, along with your feet, support your weight and provide balance and stability as you move around. Therefore, finding the best item requires a lot of patience and knowledge on your part. It pays to take these things into consideration.
Here are five ankle braces, each of which could be the best buy for you depending on your preferences and needs:
ASO Ankle Stabilizer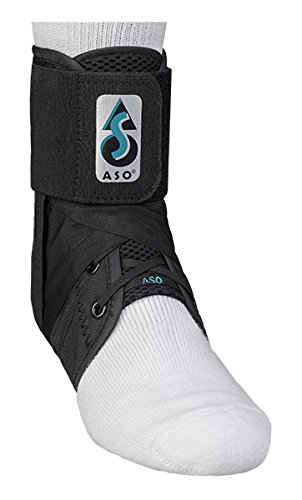 If you want to opt for a tried and tested ankle brace, ASO Ankle Stabilizer should be one of your top considerations. Carrying a reputable brand, it comes with numerous features that could benefit you in different ways.
The advantages it claims to provide are exceptional, making it worth considering.
It has stabilizing straps that form a complete figure-eight.
It uses ballistic nylon.
It comes with an elastic cuff closure.
It comes with an invisible seam.
It is lightweight.
You can purchase each ankle brace separately.
Summary
The ASO Ankle Stabilizer is a promising product. ASO is a well-known brand recommended by athletic trainers, orthopedic surgeons, and physical therapists.
It claims to provide utmost support and protection to the ankle due to its stabilizing straps. It uses ballistic nylon that makes it exceptionally strong and durable. And what's great about this product is its lightweight despite its strength and durability.
Moreover, it provides a good fit thanks to its bilateral design. It is also comfortable to wear.
Meanwhile, this ankle brace is best for sprain recovery, fighting off ankle pain, and for flat feet. It is of high quality, hence, its great overall performance.
However, some claim that its size chart is a bit problematic and consequently, causes some minor fitting problems. This is despite the product's claim that it fits any type of shoe.
PowerLix Ankle Brace Compression Support Sleeve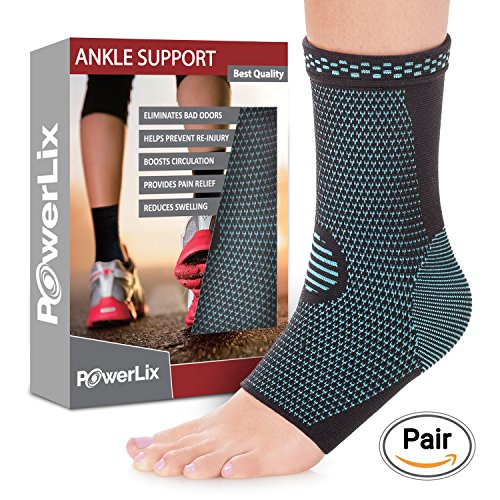 Looking for a product that can truly help you prevent or cope with injuries?
If so, this PowerLix might be a great buy for you.
It comes with a lot of features that could cater the various needs of potential users.
It uses a special fabric that is smooth and soft to touch.
It comes with a four-way compression sleeve.
It uses a special knitted technical design.
It is designed to provide relief for various ailments.
It has the ability to eliminate bad odors.
PowerLix Ankle Brace has a lot to offer its users. Its features encompass a wide array of customers' needs.
The product provides full protection through its four-compression sleeve. It provides comfort all day and night with the help of its special fabric. With this ankle brace, users are also ensured of an optimal joint temperature. It has also made the top 10 in our best ankle brace for gymnastics.
Furthermore, it helps a lot in making the body feel better as it relieves pain from sprains, arthritis, muscle fatigue, plantar fasciitis, and swelling. It also improves circulation, minimizes injuries and supports the muscles between workouts and casual everyday activities.
The design and technology that the product uses allow it to match different joints, eliminate odor, and improve one's performance without compromising mobility. You can use it while doing just about any activity that requires ankle movement. It is high quality enabling it to work well.
Take note, however, that this ankle brace has a tendency to be a little tight. Also, it may not work with significant injuries although it does great as a preventive measure.
It comes with various features and benefits that users truly enjoy.
It is made of a single-layer polyester fabric.
It comes with a compression-comfort top strap.
It has padded lining and reinforced closures.
It is designed to provide maximum protection.
It comes with a ventilated tongue.
It can be adjusted without the need to unlace or remove the user's shoe.
Summary
Indeed, McDavid 195 Ankle Brace with Stabilizer Straps is beneficial to numerous users in various ways.
First off, it has the capacity to reduce the risk for injuries by up to three times. A study supports this claim. The product is made of single-layer polyester fabric that allows it to provide full support while being lightweight. Additionally, its compression-comfort top strap provides comfort to users.
Also, you can make some adjustments without having to unlace or remove your shoe. It also comes with a ventilated tongue that helps improve breathability. This ankle brace perfectly suits sports as it provides a good fit for either ankle.
Other qualities that make this product stand out are its great physical appearance, good design, and durability.
However, take note that this ankle brace does not suit long hours of usage. It may also be time-consuming to put on and have some minor sizing issues. Lastly, it is a bit more expensive compared to other brands.
Zamst A2-DX Ankle Brace, Black
Looking for an ankle brace that you can count on even while doing various physical activities?
If so, it pays to take a look at the Zamst A2-DX Ankle Brace.
It claims to be high quality that fits even professional athletes.
It is a bit complicated to put on.
It is a little bulky to wear.
There may be some minor fitting issues.
Summary
If you are engaged in sports, the Zamst A2-DX Ankle Brace could truly be a good buy for you. It comes with exceptional features that fit even the professional athletes.
To enhance stability, the product includes a dual molded exterior support structure called the Exo-Grid External. It also prevents the foot from shifting forward and reduces the separation of the two lower leg bones through the X-Strap Stabilizers with Grip-Tech.
Moreover, it uses a-Fit and i-fit technologies that provide a good fit and a comfortable feeling to its users. Such features likewise help a lot in coping with moderate to severe ankle sprains. No wonder it suits basketball and volleyball players so well.
Other great qualities of the Zamst A2-DX Ankle Brace are: flexible, customizable, good-quality, and reasonably priced.
As for some downsides, the product is a bit bulky. Some users may also encounter issues when putting it on and regarding how it fits.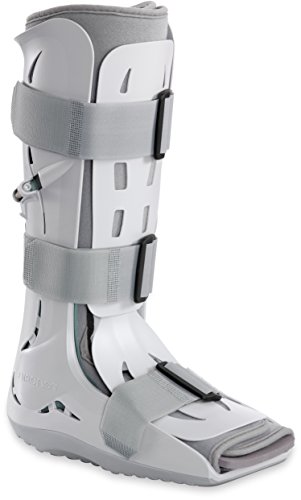 Got an injury? Do you need to wear an ankle brace?  
Aircast FP Walker Brace/ Walking Boot could be the perfect product for you.
It serves various purposes, from fractures to post-operative use. It helps promote a healthy recovery.
Its semi-rigid shell provides the level of protection that was formerly expected only from a cast.
Its hand bulb air pump allows users to customize the support level according to what they need.
Its adjustable distal air cells provide more support and compression, hence, the convenience and comfort.
It does not compromise comfort as it provides enough room for dressings.
It promotes a natural ambulation through its low rocker sole.
Its universal fit feature allows it to be used on either left or right leg.
It is sturdy and long-standing.
It is easy to put on and take off.
It is of great quality.
It comes with a good price.
Summary
The Aircast FP Walker Brace/Walking Boot could be the best buy for you if you are recovering from an injury. It comes with a semi-rigid shell that provides the protection level that is expected only from a cast. It also provides ample room for dressings.
This product lets its users customize the level of support according to what they need. This is made possible by its hand bulb air pump. Users are also able to obtain a lot of comfort and convenience.
This walker brace also provides a good fit, is sturdy and easy to put on and take off, and is high quality at a great price.
However, this product is a little heavy and it may be awkward to sleep with it on. It may also cause pain because it tends to rub in the wrong places.
Among the products featured on this page, we have chosen Zamst A2-DX Ankle Brace as the best. Apparently, each item has its own strengths but this A2-DX ankle brace has quality and features that provide excellent protection even to elite athletes.
From being flexible, comfortable, and customizable to providing support for severe sprains, Zamst A2-DX Ankle Brace is indeed a reliable product. It comes with exceptional benefits that greatly outweigh its downsides. And as for the latter, each disadvantage is easy to deal with and does not cause major problems.
Should you want to purchase this product, make sure to properly educate yourself about it. You should also be certain about your condition to determine if this item truly matches your needs.
#1 UFlex Athletics Knee Compression Sleeve

Designed to reduce inflammation and swelling, soreness, stiffness, and has heating effect for muscular recovery.