Apart from helping you heal from an injury, a good ankle brace should allow you to move easily while wearing it. If you are looking for a product that you can rely on while recovering from an injury, you may want to check out the Aircast FP (Foam Pneumatic) Walker Brace/Walking Boot.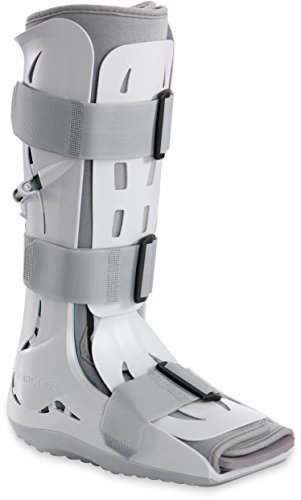 Features of the Aircast FP (Foam Pneumatic) Walker Brace/Walking Boot
It has a semi-rigid shell.
It is made with the goal of providing support, protection, and mobility as the user recovers from an injury.
It provides enough space for dressings.
It includes a special air pump.
It is designed to work on various physical conditions.
It comes with two adjustable distal air cells.
It has a low rocker sole for mobility.
Its semi-rigid shell has the capacity to provide the protection level that was formerly expected only from a cast.
It is beneficial to users with various conditions: stable ankle and foot fractures, forefoot and midfoot injuries, severe ankle sprains as well as soft tissue injuries.
It is perfect for post-operative and bunionectomies It aids in a healthy recovery.
It provides utmost support and compression as well as comfort and convenience thanks to its adjustable distal air cells.
The air pump that comes with it lets the users customize the support level according to their condition.
The low rocker sole makes it possible for the product to provide a natural ambulation.
The capacity to provide enough room for dressings makes the product more comfortable to wear.
Putting it on and taking it off is
It fits both the left and right legs due to its universal fit feature.
It has a good price.
It has a high quality.
Summary
The Aircast FP Walker Brace/Walking Boot comes with benefits that could truly cater to the needs of users suffering from an injury. First off, it provides enough space for dressings. Secondly, it has the capacity to provide utmost protection that was formerly reaped from a cast.
The product is comfortable to wear and provides a lot of convenience to its users. It even allows you to customize the support level according to your personal needs thanks to its special air pump. Furthermore, it has a good fit and is easy to put on and take off.
Lastly, this ankle brace comes at a good price and is made of high-quality materials. As for its disadvantages, it has a tendency to rub in the wrong areas and may consequently cause pain. It may also be awkward to sleep while wearing this brace because it is a bit heavy.
Verdict
Based on the traits discussed above, the Aircast FP Walker Brace/Walking Boot is a promising product. The benefits it offers are truly exceptional and though it may have its fair share of disadvantages, they are quite easy to deal with.
Just a friendly reminder: If you are planning to buy this item, make sure to properly know and understand what your condition is. There are many great products on the market, but not all of them will suit your personal needs
Important Reasons to Wear an Ankle Brace
An ankle brace is commonly associated with injuries. But what exactly does it do? While most people are familiar with this item, some do not have enough knowledge on how it works.
What are the benefits of wearing an ankle brace?
1. It helps relieve pain and swelling.
Pain and swelling are the main reasons why it is hard to move when dealing with an ankle sprain. For this condition, it helps to wear an ankle brace with metallic supports on its outer part. Such features provide support to tendons and ligaments and minimize the pain and swelling.
An ankle brace can also help users who have undergone surgeries or are suffering from arthritis and similar conditions.
2. It helps prevent future injuries.
An ankle brace does not only help you heal, but you can also rely on it as a preventive measure especially if you have sensitive ankles. You can find braces that are light, comfortable, and do not irritate your skin in any way. They are safe to wear anytime especially before you start doing an intense physical activity.
3. It helps prevent recurrence.
Wearing an ankle brace helps prevent an injury from recurring. It particularly helps you avoid unwanted movements that might further injure you.
4. It provides support to weak joints.
Got weak ankle joints? If so, you have another reason to wear an ankle brace. Take note that you should pick a lace-up brace rather than a pull-on one because the latter does not come with a metallic fitting that protects the ankle.