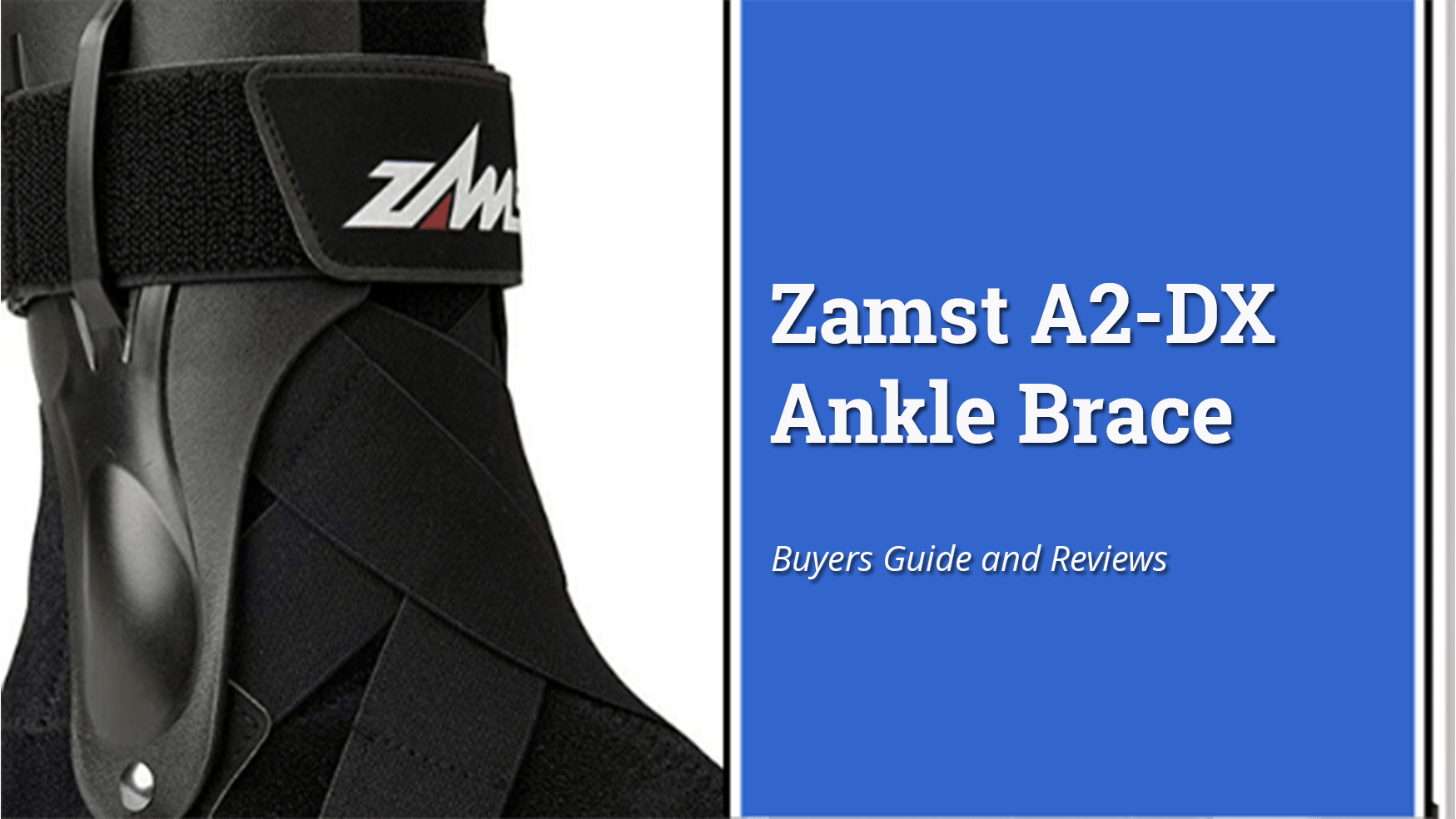 Article Last Updated: September 1, 2023
Ankle braces are generally effective. But if you want to actually use one, it is important to note that each item has a specific purpose, therefore, one may or may not match your needs.
Are you into physical activities? If so, Zamst A2-DX Ankle Brace might be a good choice for you. It has a high quality that matches the needs of many professional athletes.
Features of the Zamst A2-DX Ankle Brace
It comes with X-Strap Stabilizers with Grip Tech.
It is designed to work on moderate and severe sprains as a preventive application or supportive use.
It suits elite athletes.
It is constructed using the a-Fit and i-Fit technology.
It includes Exo-Grid External, which is a dual molded exterior support structure.
It has the capacity to correct and improve lateral and medial stability through the Exo-Grid External.
It can correctly fit both ankles, made possible by the a-Fit technology.
It provides enhanced comfort, individualized fit, and variable compression with the help of i-Fit technology.
It helps you avoid slipping particularly during activities due to the Grip-Tech that prevents the foot from shifting forward.
It works well on moderate and severe sprains.
The X-Strap Stabilizer that comes with it provides a three-way lateral, anterior and medial support, hence, the security. It works along with the anchor strap in lowering the separation of the 2 leg bones (lower) and preventing sprains.
It is a product of A2-DX, which is a trusted brand by elite athletes.
It is perfect for basketball and volleyball players.
It is flexible and customizable.
It is of good quality.
It comes with a reasonable price.
It works as advertised.
​

You may experience minor fitting issues.
Putting it on is a little complicated.
It is a bit bulky to wear.

​
Summary
The Zamst A2-DX Ankle Brace could be the perfect item for you if you are physically active or if you are a professional athlete.
The product provides comfort and is a good fit due to the a-Fit and i-Fit technologies that it uses.
These technologies likewise help a lot in coping with and healing moderate to severe ankle sprains.
Such attributes make it more suitable for basketball and volleyball players.
Meanwhile, this ankle brace provides good support with the help of the Exo-Grid External.
It also comes with X-Strap Stabilizers with Grip-Tech that help reduce the separation of the two lower leg bones and keeps the foot from moving forward.
What's more appealing about Zamst A2-DX Ankle Brace is that is a quality product with a great price. It is also flexible and customizable and generally works well.
However, this product tends to be bulky and may have some minor fitting issues.
Verdict
Zamst A2-DX Ankle Brace could definitely be the perfect product for you, given its features and the benefits that come with it.
From its flexibility to the comfort and support it provides, especially while doing physical activities, this product has a lot to offer its prospective users. There may be some disadvantages but they are tolerable and easy to deal with.
Home Remedies for a Sprained Ankle
Apart from wearing braces, there are other things you can do help yourself heal a sprained ankle. One of them is applying some home remedies. Here are some methods that you may want to try:
1. Compression
To control the pain and prevent further damage, wrap from your toes up to your mid-calf with an elastic bandage immediately after the injury.
Be sure not to wrap it tightly because it can obstruct blood circulation. Keep the bandage on until swelling decreases. Remove it at bedtime.
2. Ice cubes
To reduce the swelling, inflammation, and bleeding of the injured ligament, wrap ice cubes in a towel then apply the compress to the affected area for 15 to 20 minutes.
Do this every two to three hours. You should do this for the first 48 to 72 hours after the injury.
3. Garlic
For quick pain relief and to reduce inflammation, mix a tablespoon of garlic juice with 2 tbsps. of coconut oil (warm). Rub the mixture on the affected area and leave for 30 minutes. Then wash it off with lukewarm water. Do this twice a day until your ankle has recovered.
Garlic also boosts your immune system; therefore, it speeds up the healing process.
4. Turmeric
Known as an excellent pain reliever, turmeric is often used for immediate pain relief.  Put equal amounts of turmeric and limestone powder in water to make a paste.
Heat the paste and apply on the affected area, then wrap with a bandage. Do this at bedtime then remove it the next day. Continue the process for two to three days.
5. Cabbage
For simple sprains, a cabbage compress will work in reducing swelling. It also helps speed up the healing process because of its high vitamin and phytonutrient content.
Bruise the leaves to extract the juice. Wrap them in foil then warm in the oven.
Put the warm leaves over the affected area and secure with a bandage, then cover with plastic wrap to keep it warm. Let it stay for 30 minutes.
Repeat the process twice for two days.
[tcb-script type="application/ld+json"]{ "@context": "http://schema.org", "@type": "Review", "itemReviewed": { "@type": "Product", "name": "Zamst A2-DX Ankle Brace" }, "reviewRating": { "@type": "Rating", "ratingValue": "4.5", "bestRating": 5 }, "author": { "@type": "Organization", "name": "Ankle Action", "logo": "https://ankleaction.com/wp-content/uploads/2019/03/Ankle-Action-Logo-best-ankle-braces-reviews-3-e1552872269583.png", "sameAs":[ "https://www.facebook.com/ankleaction/", "https://www.youtube.com/channel/UCB7_YVmFgXjLSvU-B_cVTSw/", "https://www.pinterest.com/ankleaction/", ] }, "Keywords": ["Zamst A2-DX Ankle Brace Review","Ankle Brace Review","Zamst Ankle Brace Review 2020″]}[/tcb-script]